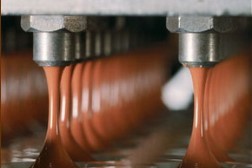 Operating Business for Sale – Confectionery Manufacturers:
Products – chewing candies and jellies, biscuits, pralines, chocolates and
hollow wafers, products of extrusion technology and combined chocolates, etc.
Products are exported.
Some preliminary figures of the Company:
Total Factory Area –  more 40,000 sq.m.;
Number of employees – more 5,000 people;
Objective of Study: for sale of the Corporate Rights of the Company.
Procedure: upon request