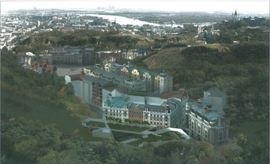 Location: Ukraine, Kiev city

Project involves the Construction and Development of Residential Complex in a prestigious area close to the center of Kiev in the form of a closed campus in the heart of a closed infrastructure in the old architectural style.
Total land area – 3.91 hectares (The legal status of land for construction of Residential Complex:private property).
Total area of Project Residential Complex – 66 958 m2, including:
total area of ​​the residential part – 30,087 m2,
general part of the non-residential – 10,948 m2,
total area of ​​the cultural and shopping center – 8970 m2,
total area of ​​the shopping and entertainment and sports complex – 9300 m2.
total area of ​​underground parking – 7653 m2,
Landscape architecture of Project Residential Complex:
a large playground area;
extensive green area on the slopes of the hills;
the complex contains the required number of catering facilities, grocery stores, veterinary clinic, travel agency, which makes the area very attractive to buyers;
the plot is located in the central part of the city and within 15-minutes walking distance from major highways and interchanges;
the project area enclosed by the natural landscape that creates an atmosphere of comfort and "closed" from outsiders;
social level environment is also favorable for housing and for offices;
the surrounding area is the concentration of a large number of embassies, consulates, trade and cultural missions of foreign states.
Proposed: for Joint Venture Creation